For several months I paddled a fiberglass 'performance' layup V10L. What immediately struck me back when I owned that boat was how comfortable the cockpit is. The bucket is very shallow compared to the other High Performance Skis (HPS), however, your feet are below your seat. Because of this, leg drive comes naturally in the Epics. The shallow bucket and low gunwales make the Epic the easiest HPS to remount. You can learn to remount any ski, but the easier it is the more likely you will be successful in bigger conditions. Your overall confidence in the boat will also increase knowing you can remount easily.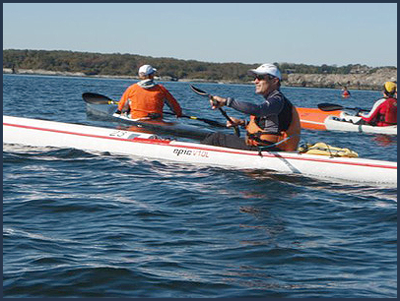 After sitting in the ski, the second thing you have to do is adjust the footplate and the toe pedal angle. While moving the footplate is easy, adjusting the Spectra line can be time consuming. Getting the knots out of the Spectra line and making sure the rudder is lined up correctly can be frustrating. However, after you have taken this time, you probably will not have to adjust it again, a plus.
When you start paddling the V10L, you notice the initial stability is slightly twitchy. As in any boat, each one has its particular feel. Paddle the V10L more and you quickly acclimate to this and think nothing of it. Although paddling the glass V10L for several months I have paddled my paddling partners Ultra V10L on several occasions and now have a V10L Ultra since November of 2008. As expected, both the glass V10L and the Ultra handle similarly, though the glass version is slower to accelerate and slightly more stable, due to the roughly 8 pound weight difference.
The extraordinary lightness of a 24 pound surfski makes putting the Ultra on your car a breeze, unless of course, it is a very windy day (pun intended). The overall lightness and fairly minimal rocker makes the V10L Ultra feel fast, incredibly fast. Acceleration is instantaneous and getting it up to race pace only takes a few strokes, even for the mid pack racer. It is no wonder why many of the elite racers are paddling the V10 or V10L.
So, how stable is the V10L? I found in flat to moderate conditions, I was quite comfortable with the stability, however in bigger conditions, it seems to seesaw on the wave crests and the standard rudder would sometimes get overwhelmed. On both my glass V10L and my Ultra, I swapped out the standard rudder for the larger elliptical rudder, which increases the responsiveness and makes it slightly more stable in confused seas. Having said this, many paddlers across the world are paddling V10s with great success. Remember, I have also paddled the Mako 6 for 18 months and the S1X/S1X Special for almost 3 years, so this is relative to paddling these skis.
In conclusion, I found the V10L to have a very comfortable cockpit that promotes leg drive, and is incredibly fast. It is the easiest HPS to remount, and has a slight delay in the responsiveness of the rudder due to the use of Spectra line versus stainless steel cable rudder line. For all but elite level racers, you will have to put your time in the bucket to get used to the stability in bigger conditions, as you would in just about every HPS. ~ Wesley