Unlike the previous two years where the weather was raw and cold like a typical New England early spring day, today was wonderful; brilliant sunshine, warm temperatures, and not much wind. While we had only a few paddlers, we had many family members, the Ceconi clan, Richard and Chantele from Canada, the Dwyer Clan, and my wife Betsy. We all had our cameras blazing so we got some very nice pics.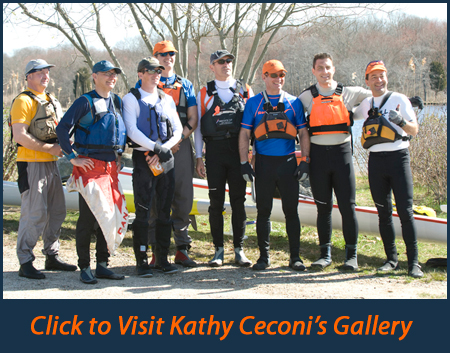 Richard and Chantele drove from Montreal to pick up Chantele's new OC1 that I took delivery a week ago. It worked out great for them to stay at our house, pick up the OC1 and for Richard to race. Richard and along with local paddler Tom Kerr are doing the Molokai on May 16. So to have two Northeastern paddlers doing the Molokai is speaks to the interest of surfski paddling here in New England. Richard completed it last year and had such a wonderful experience in Hawaii that he and his wife Chantele, are headed back this year. Tom is looking forward to the Hawaiian experience as well.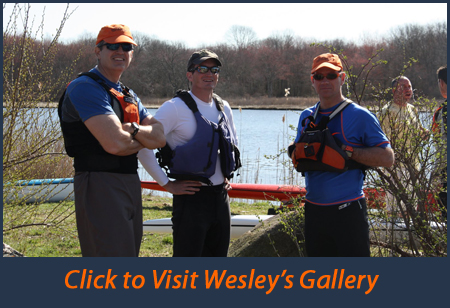 So today race was a chance for them and the rest of us to get our heart rates up and enjoy the day. David Van Dorpe, one of the flatwater specialists made the trip down from Boston willing to suffer a little paddling his K1 in the shallow but demanding K1 course. True to David's race tactics, he exploded from the start line with Chris right behind followed by me. Approaching the 1st turn buoy, Tom busted a rudder cable and was out of the race. Tim caught up to David and me by this point and we were all together until a motor boat created a wave causing some instability for David but was welcomed for Tim and me in our surfskis. From this point on Tim and I traded places every five minutes drafting off each other. Our pace dropped some as we reverted to our familiar training pace only to be almost caught by David and Chris at mile 6 despite David only having limited paddling time and Chris nursing a paddling injury.
With a less than a mile to go and seeing the finish line, Tim and I clicked into another familiar role, interval training! Tim stepped on the gas and instantly gained a few yards on me. He increased his lead to two boat lengths as we crossed the finish line. Meanwhile the pack had split with Chris coming in third followed by David. Richard and Mark were together off and on the entire race. Bob Wright had a very good race in his new OC1 that he is thoroughly enjoying. We all met at a local restaurant with our families to enjoy some the post race food and celebratory drinks before we all headed back to enjoy the rest of the Easter weekend.
~Wesley