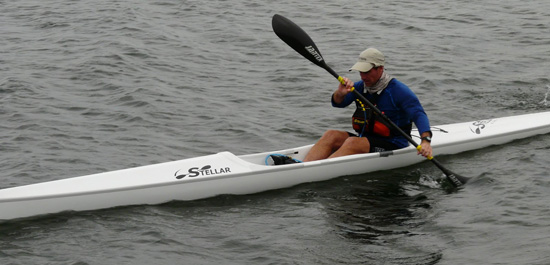 Stable as V10 Sport Ultra, Fast as V12, not Quite but not Far off.
I know the above statement  for some will be hard to believe especially since I am the Northeast Stellar Rep.  However, my reviews have been substantiated across the world.  My advice to any paddler is get in the boat and paddle them and form your own opinions.  Keep in mind however, that my experience (skill level) has increased dramatically since I first started my reviews. Enough of the disclaimers. Read on!
In May of this year, 2011, I demo the first SEL and was impressed, but I did not know the full story until this week, August 29. Because May is the beginning of the full on race season, I put the SEL on the rack and switched to training and racing in my SES's.  Now 4 months later, I have spent a fair amount of time in the SEL.  First let me make the distinction between the SE and the SEL.
The SE is 21ft 6 inches long (6.5meters), 17.5 inch (44.5cm) wide.  The SE is made for the big boys over 200 lbs. It has a lot of bow volume. I paddled the SE about 2 years ago and wrote a short review but did not go into much depth because it was too big for me.  I did not feel I could adequately review a ski that did not fit.  However, even then I knew it was an incredibly stable ski.
The SEL is the little sister to the SE. It is 21ft 6 inches long (6.5meters) and 17.3 inch wide (44cm), so slightly more narrow. While the same hull as the SE, the SEL has significantly reduced bow volume and is a full inch narrower at the catch which is great.  It is long and very sleek.  The footwell (not just the track) has been extended to accommodate even the tallest paddlers, even longer than the SE's footwell.  A recent paddler, Brian, a professional sailor, at 6ft 5inches, fit with his knees at the proper height for an optimal fit.  It also helps the hump is low in all the Stellars skis.  He recently had bought a V10 but it was too short for him and too narrow in the bucket.  He was too heavy for the SEL at 235 but he relished the fit.
Click to View Stellar SEL Photo Gallery
Click to View Additional Stellar SEL Gallery
Performance
I have both layups in the SEL, the 31lb advantage and the 26lb Excel.  The day after the Double Beaver Race I paddled with Mike Tracy on the Sakonnet River.  The Sakonnet is more like a channel connecting Rhode Island Sound to the Mount Hope Bay. It is 2-3miles wide and 12 miles long and is a wonderful place to time trial skis.  I have GPS time trialed kayaks and skis since 2000.  This day with Mike we had some
great downwind conditions with perfectly formed 2ft seas.  Mike was in his Mako Elite and I was in the SEL Advantage.  We surfed neck and neck the whole time and it was then a HUGE light went off, this ski surfed great!  I had not expected it to be so stable and so fast.
So a month goes by and I suggest to Dave Thomas, co-owner and co-designer, of Stellar Skis and Kayaks that I would like to demo an excel version to thoroughly time trial and race.  So on Monday, August 29, day after Hurricane Irene, Big Wave Bill Leconte stopped by my house and we took a spin on the Sakonnet.  Bill has one of my old Legends.  We paddled upwind past Black Point and then turned to head downwind.  I got into a good groove and by the time we reached Sandy Point, I reset my GPS, and put the hammer down.  12 minutes and 12 seconds later and 1.62 miles, averaging 8.197 mph, I had my 2nd best time ever on this course.  My previous record was in my Ultra carbon SES on May 15th of this year, averaging 8.32 mph.
The next day on my 3.21 course which by the way includes the same course as my 1.62 mile course except I start at Black point, 1.5 mile further up the river.  This time I broke this record with a time of 24.23, average speed 8.152 for 3.21 miles.  Previously the record was in one of my all-time favorite skis, my carbon Legend, averaging 8.141 mph back on June 28th, 2009.  This time in the Legend by the way, was three weeks before the Blackburn Challenge.  I went on to PR the Blackburn Course in this Legend with a time of 2:52:32 paddling virtually alone for the entire race with just my Heart Rate monitor.  This year I broke that record in my carbon Ultra SES with a time of 2:49:55.
Yesterday, September 3, I was excited to be paddling off Sachuest Point in Rhode Island Sound where the conditions are much bigger than on the Sakonnet.  The Sakonnet River empties into the ocean at this point.  This has the best surfing in Rhode Island because the waves are smoother and better formed than say Beavertail which has a much different feel than Sachuest Point.  Mind you it is still rough for Northeast conditions. This is where Big Wave Bill Leconte seeks 3-7ft seas routinely in the summer/fall.
In fact, Bill just demo my SES Excel yesterday in the afternoon in conditions SSW 15-20knots, 5-7 ft. waves, 5 miles off shore.  Tim and I were paddling much earlier at 7:30 am in 2-3ft waves with 10knot winds and much closer to shore than Bill.   Bill clocked a max time of 13.3mph.  I digress some, but Bill said the nose of the SES rarely buries in these conditions, and surfs great, and is much easier to remount than his Legend because the secondary stability is great on the SES so you can just lean it on edge while remounting and it stays there.  He suggested a 9 inch or 10 inch rudder vice the 8 inch rudder for bigger conditions like these. He has a 9inch rudder on his Legend.
One of the reasons I wanted to take the SEL in these conditions (2-3ft) was to see how it responded with the 4 inch weedless flatwater rudder vice the 8inch rudder.  It did not disappoint.  The ski is so stable I can easily use this rudder if I think I need extra speed over handling in races.   Tim (V12 Ultra) and I paddled upwind for 30 minutes and then turn to go downwind.  We were flying!! I maxed at 11.01 mph. We paddled for 10 miles at a tempo pace with some pickups.   I also wanted to confirm the volume of the ski.  I weigh 178 and the bow only buried twice in this conditions.   I also wanted to know how wet the ride was with the low gunwales.  While it is a wet ride, it handled fine as it has in similar conditions, and draining was not a problem.
Click to View Garmin Connect GPS Track of  Sachuest Point
Click to View Garmin Connect GPS Track of Weaver Point
The above track is from this morning where I padded upwind/up current almost to Gould Island than I raced a sailboat going downwind in perfectly formed 2ft waves with white caps. It was a blast.  It took me almost a mile but I caught him!  I yelled over, waved, and caught my breath.
My other outing in the SEL was 2 days before the East Coast Surfski Championships when Reid Hyle and Rob Mirlenbrink and I paddled past the famous "House on the Rocks" headed toward Beavertail.  It was much more chaotic than the Double Beaver Race just a few weeks ago by far.  I was in the SEL advantage layup and brace only once or twice.
Fit
Leg Length
This ski fits virtually everyone in regard to leg length. My inseam of 29.5 inches is very short.  Brian, the 6ft 5 inch paddler, I mentioned earlier fit fine the SEL with low knees.  The trade off in the Stellar skis of fitting everyone is there is a huge space in front of the footplate, I mean huge.  Visually, I first was concerned but after testing, I did not find it to be a problem with water splashing over the low gunwales in general.  However, today paddling upwind in 12 mph/up current in short 2ft seas, I could have used a footwell cover. We are making a detachable footwell cover.  The cover will be also helpful for winter paddling, when I want my feet to be a dry/warm as possible.  I can easily fit my hydro pack here and most guys will be able to do the same.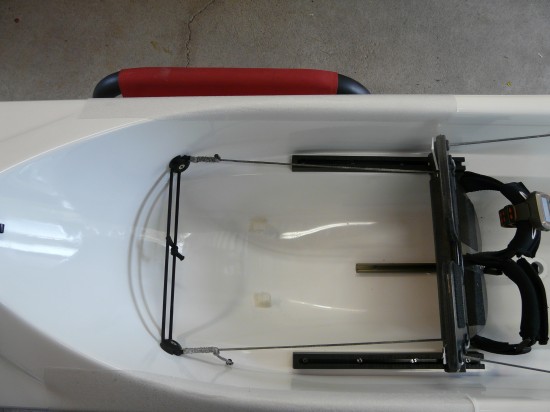 Remember, this is a low volume ski by design.  If you are over 200lbs and paddling this in the conditions above what I have described, then you will have less freeboard and will experience more burying of the bow and a wetter ride. If you are over 205 or so then you need to move up to the SE or if you just want to paddle the SEL on flatwater than you would be fine.
Width
The overall beam is 17.3 inches.  As you can see in the pictures, the measurements at the point the base of the cockpit slopes upward, it is 15.25 inches. The widest point in the ski is 15.5 inches where the hump begins. This is where I have padding for a personalized fit so I have hip rotation with about 1/8 separation from boat and me but I have contact with the ski when I edge it or in rough seas.  I also put some padding at the calves as another contact point and to keep my legs straighter for optimal leg drive (no splaying).  My calves do touch the padding slightly on extension.
For comparison I measured my Evo at the same points. It measures 15.5 inches at base of the back of the cockpit as it slopes upward. So it is ¼ inch wider at this point. The Evo like most skis begin to taper almost immediately hence it gets much narrower toward the hump.  The Stellars do the opposite and get wider at this point and then start to taper as you get into the footwell.  Basically the Stellars don't taper much as they carry some of the width through to the footwell.  This possibly explains why the Stellars boats are so stable with the same beam widths of other manufacturers.   So with all the Stellar skis you have more room than other manufacturers in this regard creating a much different feel as far as the fit.  Some skis you feel you are too jammed into them as they taper depending on your size and your preference.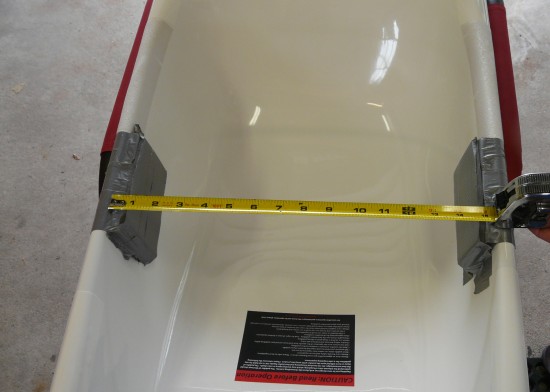 Stability
The SEL has excellent initial stability with no twitching.  The secondary is astounding.  You can edge the boat over like a sea kayak, hold the edge and paddle.  There is much less of a learning curve because the secondary stability is predictable and it literally waits for you to either hold the edge or edge it to capsize.  The point is it holds right there waiting for you to make a decision, similar to the "Stable class of skis" hence the reference the V10sport stability.  You could substitute the Evo as well.
But the real test was in the waters I have paddled in: flatwater, confused, 1-2 occasional 3ft waves, etc.  I am able to paddle it with a 4 inch flatwater rudder that also speaks to the stability of it.  Stability before speed is the mantra.  The SEL defies this; you can have it both, stability and speed.  I can paddle at full power almost never bracing because the platform is so stable.The SEL Excel is more stable than 30lb SES and is getting close to the V10sport ultra.  So I would put it in between the V10sport Ultra and the Huki S1X's.
Speed
I had a PR in it as mentioned earlier and the 2nd fastest time, and another 8th best time this week as well. I am sure the more I paddle it and race it, more PR's will fall particularly in the rougher and longer races.  Do not be lulled into the perception due to their stability you are not going as fast.  This is a common mistake.  Get your GPS!! This perception has been confirmed for me repeatedly from other paddlers of Stellar skis.  
I did notice my SES's are slightly quicker to accelerate when jumping on a wave than the SEL.  The SEL is a foot longer and 1 inch wider in the beam than the SES's.  The glide is not  quite as smooth on the SEL as in the SES, Uno, V12 or Mako's.  In downwind conditions of 1-2.5 ft here in New England this boat surfs as well as any boat I have paddled.  I really enjoyed my Legend for true downwind where it was at its best, but the SEL is more stable, carves turns better, and is faster and easier to remount.  Upwind it goes over the waves and has some bow slap.  This ski is Low Volume and is best for paddlers 150-200lbs.  The 150-180 lb paddlers will enjoy the ski in typical New England conditions as I have described.   The 185-200 will enjoy the boat on flat water and up to 1 foot waves.
I will race in at the Lighthouse 2 Lighthouse next week hoping for a moderate to rough day. In the ocean, the SEL excel can hold it's on with any other ski that I have paddled:  SES, Uno, V12, V10L, Legend, Huki, Mako 6, Huki's.  In pure flat water the edge goes to the Uno, SES, and V12.  The caveat is that I will buying a full pre-preg carbon unidirectional (best in industry) Ultra SEL for next year to race in so I am sure it will be faster, have better glide, be  more buoyant, less stable than the 26lb Excel. I will be in this ski for the Blackburn, Double Beaver, and the longer races.
September 12 Update after my Lighthouse to Lighthouse Race
My race confirmed for me how fast and stable the SEL is in both flatwater and ocean conditions. The first 7 miles was flat, and the 2nd 7 miles was a mix of quartering and beam.   I place 5th in a highly competitive field and was beaten by my long time training partner by 14 seconds in a V12. We paddled within 3 boat lenghts of each other the entire 14 miles.  Three other excellent paddlers fell apart  when the conditions went from flat to very small beam, quarter chop in less stable boats for them.  Stability is vastly under rated when choosing a ski!!  That is what makes the SEL so unique.  Below is my Garmin track with Heart Rate and Speed.  I had my best time ever on this course: 2:03:06 for 14.10 miles.  See the L2L Race Summary for more details about the race. 
http://connect.garmin.com/activity/113638694
As I have always done, I urge you to demo as many skis as you can to see how they fit, how stable they are, and yes, how fast they are in the conditions you will predominately be paddling in.  Be sure to see how easy/hard they are to remount.  Of all the aforementioned skis, the SEL is the easiest to remount so this farther increases you confidence.
So the design team of New Englanders Dave Thomas, Ed Hofmeister and others at Wintech Rowing have designed a ski/skis that defy the old design that skis have to be less stable to be fast.  We have seen this trend over the last few years in ski design so it is not surprising that Stellar has computer designed their models with years of experienced making and designing rowing shells.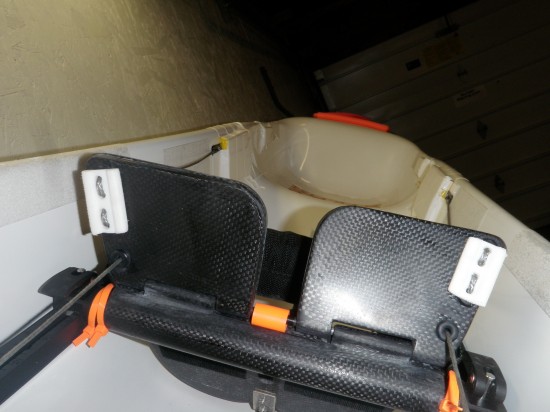 Click to View Stellar SEL Photo Gallery