10th Annual Phatwater Challenge in Natchez, Mississippi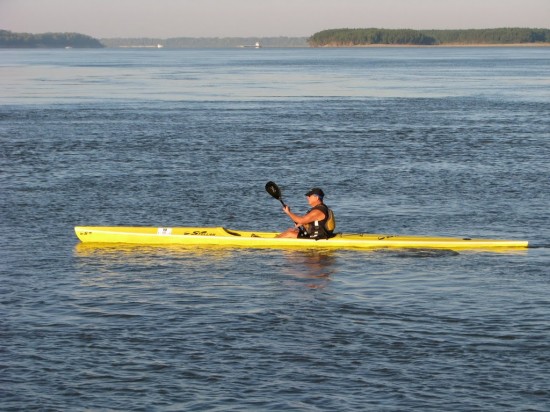 Phil Capel, 2nd Place Single
After arriving in Natchez Friday afternoon before the race and getting signed up, it was time to see who was there and who was paddling what boat. I had heard that Joe Glickman had begged Eric Mims (half his age) to paddle tandem and try to beat Pat and DeAnne Hemmen`s last years winners. We got to the hotel and I saw a car with Tennessee tags and a Fenn Tandem on top so I knew it was true.
The bus to take the paddlers to the start leaves about 4:30 in the morning headed to the start.Lucky for me my lovely wife Robbie always is my shuttle so I got to sleep in a little. Saturday morning we had a steady wind out of the South which meant we would have a head wind the entire 42 miles. I got in my ski early and warmed up. I could see where several gators had slept the night before and had made their way down to the water.
 At the start Joe and Eric took off like Viggo Mortensen in the movie Hidalgo. I thought they would eventually slow down after they got out off the pack.  Little did we know that they would hold that pace (3:54:32) most off the race beating second place finishers DeAnne and Patrick Hemmens by eight minutes. 
I tried to hold back and not start to quickly and just stay with the second pack as we met an up stream tow about 3 miles into the race which threw some pretty rough waves at us. I let a couple of boats get past me at this point.
 The wind was blowing about 20 mph into our face so it was really kicking up some waves.
At the 3 hour mark of the race, people start asking themselves what am I doing here and start slowing down if not properly trained and hydrated. I made an effort to eat more this race so I would keep my energy up. I had gotten by all the singles except one ski paddled by Philippe Boccara.  I knew I could not beat him and he was hanging with the tandems up at the front.
My goal for the last 7 miles was not let anyone pass me.  As much as I wanted to look who was behind me, I could not because the wind was so bad I had to brace several times in those last few miles. I did manage to finish second over all in the open class. I know the water was about 2 feet lower this year than last and the wind was a big factor making it a slower race. I was glad I was paddling my new SEL that I had just received a few days before the race with all the chop we had. 
 Everyone has their own personal goal for this race; some want to win their division, some want to make it under 5 hours and win a pocket knife, and some want to be out on the water and finish.
 It is a great race and really a challenge .You can check out the results at www.kayakmississippi.com
 https://picasaweb.google.com/104215958316744812569/Phatwater2011?authkey=Gv1sRgCI2P7beqrY7DzgE#