In each of my 4 years racing kayaks, I anxiously look forward to the ROTC (Run of the Charles). Its a great event – many different races, categories and spectators all coming together at Herter Park in Cambridge – the finish line of the world famous "Head of the Charles" Rowing Regatta". This year would be no different with a chance to catch up with many folks we haven't seen since last fall. I was even more excited this year because I hadn't raced since last August – taking 5 months off from paddling due to a bad case of tendonitis. All the rest and PT worked…elbow is still in one piece as I type this article 🙂
Once again I chose the "6 Mile Race" with other fellow ICF and Surfski paddlers. Our unlimited and Olympic ICF heat was scheduled to go off at 1:02 2 minutes after the "Dragon Boat" was scheduled to leave at 1:00. The next two heats would start at 1:04 and 1:06. Well unfortunately this did not happen which led to a chaotic and missed start by many. The Dragon Boat was inching up to the line at 12:55 (large timing clock on the bank) and the starter decided to send them on their way. I happened to be at starting line and yelled to the starter "are we still going off at 1:02". "No, 2 minutes at 12:57". Needless to say a few racers from our heat were heading up river to turn around and get ready for the start. Well they missed the start and were now stuck behind a heat of fast kayaks and large heat of recreational kayaks and paddle boarders! Not sure how many this happened to, but from the pictures and conversations afterwards, Jim Hoffman (who actually was out of his boat since he knew he had a good 6+ minutes to get back in), Steve DelGaudio and Bob Capellini definitely missed the start by at least 5 minutes. I saw this happen at one other race, and will never understand why starters feel compelled to "get the race going early" for no apparent reason.

So we were off. I had a good few weeks of training so decide to go out pretty hard. Immediately on my port side was a very smooth paddling Nelo ICF boat that I would duel with for rest of the race. I later found out the new face was Oleg Panchenko, (I would find out later Oleg is a former Nationally ranked ICF sprint paddler from New York. Oleg had made the trip up with Borys Markin (winner of the 19 mile race last two years) along a few other friends from NY/NJ. Great to see more folks joining us for our local races. Rumor is we'll see more of "Borys' group" this summer in surfskis!). Right off my starboard side was Francisco Urena with Mike McDonough close behind him. Francisco has started a new job, is remodeling a new house and just got back from a week vacation in California. If there was every a time in the season to get a lead on Francisco, it would be today or never!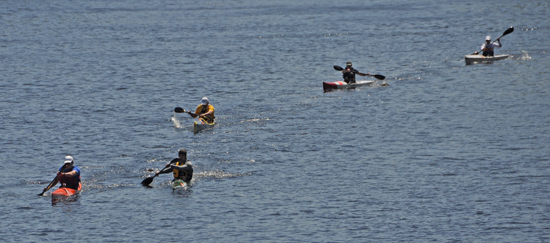 As we rounded the first corner and headed under the Elliot Bridge it was very apparent to me the green Nelo stuck on my port bow wash was not going away. Put in a couple of hard sprints but nope…he was not budging so realized it was going to be a long hard race… (Many of the photos are taken from the Elliot Bridge by my daughter, Catherine). As I glanced over my shoulder going under the bridge the group had started to thin out, with Francisco and Mike in 3rd and 4th which is how they would finish.
Click to view photos from Start/Finish Line and Elliot Bridge.  
Taken by Catherine and Leslie Chappell
Oleg and I would be neck and neck pretty much to the last buoy where he executed a perfect turn, picked up a few boat lengths on me and held the lead to the finish, winning the race with me coming in second. A great race in my opinion, and a super workout…although we were pleasantly reminded by a local ICF paddler who was not in the race…."Guys, just FYI, Oleg is many time US National kayak Champion, I would doubt he was seriously racing…" Didn't hear this directly from Oleg, just one of his local acquaintances, but hopefully he got a good workout in after driving all the way up for the race… Have to say I really did enjoy watching closeup his pretty much perfect stroke over the course of the race….take a look at the pictures in the gallery.
Overall a great day!
~Chris 
Here are a sampling of the photos, check out the gallery for many more!!