6:15 pm, Friday, June 1st update.
Due to small craft advisory for tomorrow, we will do the same course we did 2 years ago in similar conditions. We will Start at McCorrie Beach, head South 2.8 miles to 1st blue/white mooring buoy off large dock, turn counterclockwise and head North to Island Park approximately 6 miles to sailboat and motor boat that are moored within 20 yards of each other and are about 40 yards off the beach. Turn counterclockwise around the sailboat and head back south to McCorrie Beach.  This course keeps everyone close to shore within 50 yards of the shore except from McCorrie Point to Island Park Sailboat turn(3miles).  Rest of race is very close to shore with plenty of options if you need to bail.  Bring you leash, and your pfd!!! 
Dave Grainger's GPS Track from 2010 Race.  
You can see the entire course is near the coast, which is all beach.  
Dave's track was 11.9 miles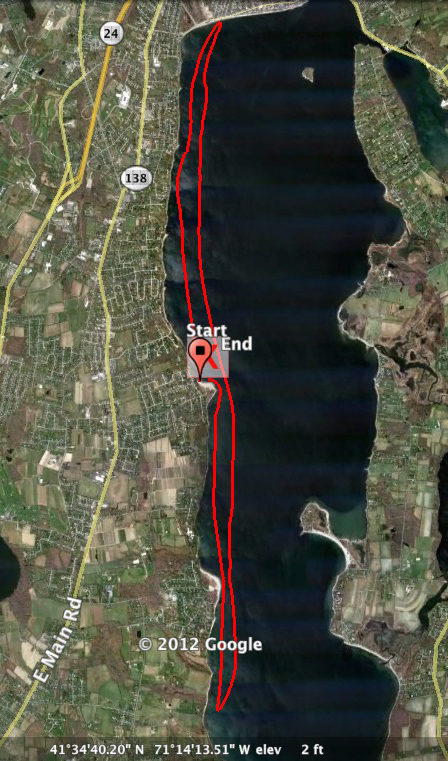 _______________________________________________________________________________________________________________________________________________________________________
Saturday, June 2, 11 am shuttle from McCorrie Beach.  12:30-1pm Start 3rd Beach. Due to input from other paddlers including myself, we wanted a more downwind, more waves, more action, more fun!  So I devised a different, downwind, down current course that if the wind cooperates will give us 9 miles of downwind but requires some shuttling.  The shuttle is easy since all launches and take outs are within 20 minutes each other. So Plan A is outlined below. Plan B will be the the same course as outlined on this site that we have done for 4 years.
We will run a downwind race from 3rd Beach in Middletown, RI to Island Park Beach. The is almost the entire length of the Sakonnet River. For those of you who don't know, the Sakonnet is really like a small bay that is 2-3 miles wide with ocean conditions  particularly on the 1st 4 miles of the course, then it gradually lessens as you go toward Island Park. 3rd Beach is where it opens into Rhode Island Sound. So if the wind is out of the South or Southwest, Southeast this will be the course otherwise we will go with Plan B and run the same course we have run for years starting at McCorrie Point. Their is a Plan C if need be.
Everyone should plan on being at McCorrie Point by 11 am so we can do the shuttle. We will all then go to Island Park Beach, just 10 minutes from McCorrie, load boats, drop cars, and proceed to 3rd Beach, drop the boats and we are starting the race at 12:30 to 1pm.
I did the entire course on Saturday, May 27th.  It was a perfect 10.75 miles, 8.5 downwind. I strongly suggest everyone go online and look at the Sakonnet River before the race. The course is as follows.
1. 12:30-1 start time from 3rd Beach. Rolling start.
2. Head straight out to from the beach to a green can almost 1 mile out.
3. Turn counterclockwise on green can and head North/Northeast for 8.75 miles. You will be in the middle of the river which is again 2-3 miles wide. The River is 20ft to 70ft deep so true ocean conditions starting just before green can and lasting until you get to Black Point where conditions lessen some.  This course has a total different feel then how we normally run it. You are 1.5 miles offshore so plan accordingly.
4. Once you paddle 3 miles from the green can, you will be able to see the Sakonnet River Bridge which is 5 miles away. You head for it. A few miles before the bridge you will look for Gould Island to the left the Bridge. The bridge is another mile past Gould Island but from our view it looks closer until you are about 1 mile from Gould Island. The River is only about 1.5 mile wide at this point so everything is close.
5. You keep Gould Island on your left as you go around it.
6. Then you will plainly see Island Park Beach that is 1.5 miles long.
7. You paddle 1 mile parallel to beach headed Due West to the finish line on the beach.
8. So basically straight down Sakonnet, go around Gould, paddle 1 mile parallel to beach and finish. Look at a chart of the Sakonnet otherwise you will have no idea where you are on the course. There are many take out beaches, shorelines on both side of the River if you get into trouble. 
9. The course will take us about 1:30 to 2hrs for most of us.
10. No Lunch provided. Flow's Clam shack is across the street from the finish. So bring your on or have fried clams and a coke and fries from Flo's. Portage John at Flow's.
11. There is parking on the street at Island Park beach.
12. There are portage johns at 3rd beach. No parking here unless you pay. We can drop the boats, hang around for the start then leave for those spouses coming.
Mandatory Equipment.
1. PFD, everyone will were one on their person, not on the back deck.
2. Leg lesh or Paddle Leash
3. I always carry a phone, Emergency Beacon, vhf but this is up to you. If you have to pull in off the course it would be nice to have a phone to call.
4. Surfski, OC1, Kayaks, etc. NO K1's, No K1's Vadim!
 NO CHASE BOAT, No chase boat. You are solely responsible for you own safety. Not me, not your training partner, You are!! So Plan accordingly. The Sakonnet while most days is a great doable paddle for most of us, some days it can be extremely sloppy off 3rd beach to Black Point like Beavertail for 3 miles! This is not a NOVICE course, I repeat this is not a NOVICE Course. 
This is a great course but like all ocean paddles, safety is the main concern. The goal in changing the course is to have a downwind course in moderate conditions. 
YOU NEED TO LET ME KNOW IF THERE IS A 75% CHANCE YOU ARE COMING. IF YOU DON'T TELL ME THEN WE WILL NOT WAIT FOR YOU IF WE START EARLY FROM McCorrie Point(plan b) or you get left from the shuttle Plan A.
Racers so far who have contacted me who are coming.  May 29th Update.  Chris updated the Series chart so if you want more points come on down. Greg leads the Standing so far but that will change after Saturday.
1. Tim Dwyer
2.Greg Lesher
3.Flavio Consta
4. Mike McDonough
5.Wesley Echols
6.Mark Ceconi
7.Steve DelGaudio
8.Dave Furniss
9.Dave Grainger
10. Sean Milano
11.Chris Chappell
12.Jan Lupinski
13.Beata Cserke
Click on Chart or Google Image for larger view.  Thanks to Dave Grainger for creating the Google Earth route.  Make sure you click on image in new window to see full size.  Actual Finish line will be discussed at Captains Meeting ~ Webmaster