When I received the confirmation for the 2012 Molokai, I wondered if I really wanted to go back and take on the task of training again for that challenge. I knew I would be sick with envy and regret when the day of the race would come if I didn't go. But still, I could not define clearly what called me to that regime of military self-discipline and putting lots of stuff aside because or training requirements.
 [vimeo 43358590 500 275]
Below is Richards facebook link with his pictures.
https://www.facebook.com/media/set/?set=a.10151034204198949.493088.771463948&type=1&comment_id=24879610&notif_t=like
  Fast forward to Waikiki…
There was some major stress when I learned that my surfski was still stuck in customs. I really like to go for a few paddling sessions in the area of Chinaman Wall as soon as I get on Oahu. Paddling the Wall is never easy, but a few rides over there a week before on a sunny morning makes the Wall, if not more friendly, at least a little less scary. My shock therapy would have to wait four days after my arrival. Merde!
When my surfski was released, my wife Chantale and I drove to Bob Twogood's shop to get it. Then we went right away to Kailua beach for a test paddle before it got dark. What a nice stable ride. I was grateful to Wesley for suggesting that I rent a Stellar SEL and helping me find one. It took a few hours to get used to a slightly wider catch area, but I knew right away this would be a good boat for the channel crossing.
The next morning, I went for my Chinaman Wall shock therapy, and everything was OK.
The pre-race meeting was very impressive with a large sample of current and past Molokai and Olympic champions. Seeing these Molo-demi-gods always gives me a feeling of "This is soooo cool!  …but what the hell am I doing here???" But this gathering is a good occasion to see far away friends, like Tony, the best escort captain! (The no disclosure approach to his last name is totally voluntary so no one tries to hire him before I do!  😛 )
Once on Molokai, when fellow racers and their families heard my unfamiliar Québécois accent, they usually asked me where I came from and my answer was often followed by: " But how do you train?" So when they heard about my mix of freezing cold paddling sessions with stuck-in-ice-rudder-cables and long distance freeskate cross country ski sessions, their facial expressions were priceless. Suddenly I realized what I was to them. You probably have seen the movie "Cool Runnings" where a team of Jamaican runners go to the winter Olympics to do some bobsleigh racing. Well I was the alternative universe, Fringe's Olivia, surfski guy version of the movie. The guy who trains in ice and snow and who, for the first race of the season, chooses to do the Molokai. Cool idea for a movie when you think of it! 😉
 On race morning, the launch was easy enough with Kepuhi Beach getting virtually no shore break at that time.
The start signal is heard, we have liftoff! I had a good start, but when the escort boats came close to us at the 20 minute mark, I must have lost 5 or 6 places because of the wake chaos. A fellow racer went for a swim right beside me. I did not want to join him. A capsize is no big drama in this warm water, but I had a swim during all my previous Molos, including the super-flat 2009 edition – please don't ask why…  So this year, one of my objectives was to have a swim-less crossing. All the escorts looking for their guy while all the racers had the same orange shirt and probably a white boat made it hard for the captains who had to come close to look at our faces and race numbers, and hard for me to reach my goal.
When everyone spread out, it became almost perfect. Good wind from the north-east, nice catchable waves…and yes of course I missed a good number of them, but when I caught one, it sure was a fun ride.
 My captain was very helpful in giving me frequent navigational update, making my GPS almost useless.
Being a science geek, I found it an extremely sensational occurrence that the time of the race coincided with a partial solar eclipse of the Sun. Although the Moon hid only 10% of the Sun's surface, I think it contributed to the comfortable temperature during the race.
I have written about this before and I guess it's no big deal for local paddlers, but I LOVE to see flying fish!!! The sight of their gracious flight always puts the biggest grin on my face.
When I reached Koko Head, the water started to have a new aggressive personality, as expected when one nears Chinaman Wall. Waves were getting harder to catch because of the increasing chaos and increasing fatigue. The cliffs, the caves, the rock strata and the crashing waves are a beautiful sight which, by itself, makes the race worth doing.
At the end of the Wall, it's a right turn towards Hawaii Kai. The calmer water was welcome, but  ARGHR!!!  that head wind!!  The last few kilometers were done at  an 8 to 9 km/h crawl into the wind. The view of the Hawaii Kai Bridge was a great source of motivation. As soon as I passed under, I could hear Chantale and friends cheering for me! What joy! Crossed the finish line…What  a great feeling!!
 This had been my most enjoyable Molokai crossing. I had 3 objectives:
1) No swimming: Done!
2)Lower my personal best: Done! This crossing was about 23 minutes faster than my previous Personal Best.
3)Finish with a smile: Sure did! Impossible not to with all the fun I had in this gorgeous ocean!
So now, it looks like I'm the Canadian with the most Molokai finishes. Still the only Québécois and the only person with type-1 diabetes to ever do the Molokai.
Mahalo to Patrick Hemmens who made sure my surfski got to Molokai, to Helen Workman and Loren Lasher who treated us like Hawaiian royalty, to Dave Thomas and Ed Hoffmeister of Stellar who acted as my pit crew in Waikiki, and to Shelly and Geoff who organized a great race and really made feel welcome this year.
 A special big thank you goes out to my favorite life partner, Chantale, who acted as the president of my motivation committee, although she had a very difficult winter.
By the way, a big "Bravo" goes out to Mr. Chalupsky for an incredible race time and a 12th Molokai win! What talent!
 If you are thinking about doing it, winning a Molokai is for alien-modified-gene-enhanced-android-paddling-human-machines. But having a good time at the Molokai is possible for many mid pack racers I know. If you can picture yourself doing 1 + ¾ Blackburn Challenge or 1+ ½ Festirame, both with extra "shaken and stirred", you can finish a Molokai. The size of your smile at the finish will depend on your level of preparation and tolerance to water entropy!
But why do it? Why spend so much time and money on this event? I found a very satisfying answer this winter in a little book written by Éric Fottorino, a French writer and a former bicycle racer. In "Petit éloge de la bicyclette" ("Small praise of the bicycle") he tells about his training and racing in a prestigious long distance event where all the other racers are younger, fitter…just plain better than him. He writes: (poor personal translation)
"Why did sign up for such a fierce competition  among professional cyclists often very young and in full possession of their faculties, ambitious, eager for victory, guys who make careers out of racing, me an amateur animated by dreams?  I know. I know why.
This could be summed up in three or four words: Delay the moment of twilight. Must I explain, justify, get lost in words where only actions really matter?  Delay the moment of twilight. That is enough. […] That's life which pushes its limits, which expands its borders. Lost time riding in the wind, rain or against the clock, is time found later to face the gray days lined with memories, all the better if they are happy, and if they are not, may they be full of adventure."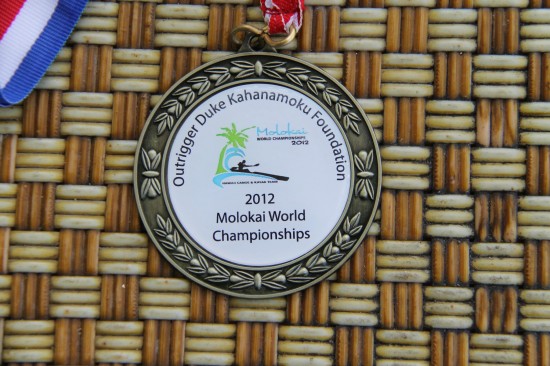 See you there! Au plaisir de vous y voir!
Aloha!
Richard Germain
Terrasse-Vaudreuil, Québec