East Coast Surfski Championship
August 27th, 2011 – Jamestown, RI
The East Coast Surfski Championship (ECSC)sponsored by Stellar Surfskis and Kayaks and hosted by the Jamestown Counter Revolution Race (JCR), will coincide with the Jamestown Counter Revolution Race. They are the same race however, the surfskis will have their own separate class, flight star, and cash awards. The information for registration, logistics, etc., are the same except where distinctions are made in regards to the East Coast Surfski Championship.The race is a 15 1/2 mile circumnavigation of the island of Conanicut, the home of the Town of Jamestown. Competitors will row or paddle in ocean conditions that can change very quickly. Occasionally the water can be very rough, with strong winds and surf. While we have some powerboats on the course to monitor checkpoints, we do not provide boat escorts. You should expect to be out of their sight and fully independent most of the time. Unless you have solid experience in difficult conditions with the boat you plan to use, you should not enter this event. Always plan an escape path to safety, and if you encounter any problems along the way, pull out and call race officials to let us know you have withdrawn from the race.
Stellar Kayaks and Surfskis will Award:
$800. – 1st place overall surfski winner
$400. – 2nd place surfski finisher
$300. – 3rd place surfski finisher
[slideshow id=11 w=425 h=300]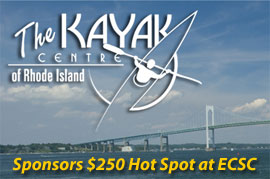 Narragansett Bay, with its breathtaking views, beautiful rocky shorelines and challenging waters, is an ideal venue for an open water rowing and paddling race. With that in mind we've researched and explored the bay for the best location and we think we've found a fantastic course. The Island of Jamestown is perfectly situated at the mouth of Narragansett Bay where it meets Block Island Sound. With the prevailing summer breeze from the southwest, we found an outstanding course going one full counter-revolution around the main island of Jamestown. Making the course even more attractive is Mackerel Cove, which is a cove over 1/2 mile wide and is almost a mile long making this the perfect starting location. With a distance of over 15 miles and a course that is not as straight forward as it seems, paddlers and rowers will have their mettle tested by irregular surf, navigation and variable currents throughout race.
The orderly, safe and sportsmanlike conduct of this event is your personal responsibility, and is essential to guaranteeing the future of this race. We have no rain date and no alternative course for rough weather conditions. The Jamestown Counter Revolution is open to Single and Double Kayaks, Surf Skis, Sliding Seat Single and Double Sculls.
A partnership with Achilles International and the Achilles International Kayak Program has formed so they will be competing at this year's race. Welcome aboard!
The JCR Committee is pleased to announce our partnership with the Eact Coast Outrigger Racing Association (ECORA) This year's JCR has been added to the OCORA annual point series for 2011!
We've put together what we think is an outstanding event complete with a post-race party, great food, entertainment, massage for all competitors and great awards for our winners at the Fort Getty Pavillion.
Schedule of Events:
6:30 amRegistration at Mackerel Cove, we'll have it clearly marked, you must register in person between 6:30 and 7:30 am7:30 amCompetitors Meeting at Mackerel Cove (don't be late)8:00 am Launching

8:30 am Race Begins(first flight)

11:30 am Fort Getty Pavilion opens

12:00 pm Food service begins

1:30 pm Awards Ceremony – Stellar Prize Money Awarded

$800. – 1st place overall surfski winner
$400. – 2nd place surfski finisher
$300. – 3rd place surfski finisher

3:00 pm Time to go home

Parking
Please off load your boat and equipment at Mackerel Cove then move your car to the designated parking area. Do not leave your car at Mackerel Cove, as it will be towed. Please allow ample time to park and walk or get a ride to the Cove, we'll have a van doing round trips.

Launching
All boats will launch from the beach of Mackerel Cove. Please allow plenty of time to unload your boat, park, register, attend the competitor's meeting and launch.

Restrooms
There is one beach restroom at Mackeral Cove(start of race). There will be porta johns along with the pavilion restrooms at Fort Getty(finish of race ½ mile from start).

Race Numbers:
Should be taped to both sides of your bow. Do Not cross the finish line twice!

Directions to Registration at Mackerel Cove:
150 Beavertail Rd
Jamestown, RI  02835

View Google Interactive  Map for Directions

Entry Information:
The deadline for entry is 8/20/11. Entries postmarked later than 8/23/11 will not be accepted. Register as early as possible!Entry Fee: $50 per participantFees include a cool tee, race management and post race food, beverages and entertainment.

The Jamestown Counter Revolution Committee reserves the right to refuse to register any individual or boat. The Committee may also expel or refuse any participant or boat before or during the event for lack of required equipment, unsafe operation, disregard for event rules, or unsporting behavior.

Visit Online Registration and Waiver Download

Race Course

Recent Posts related to the ECSC:
[get_posts category="84″ fields numberposts=-1 fields="post_title" ]