August 23rd, 2014
Fisherman's Beach, Swampscott, MA – 10:00AM
Click to view Google Driving Instructions

Race Director: Mike McDonough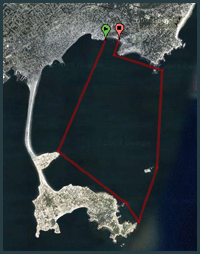 The Nahant Bay Race, like other events in the NESS series, is an informal gathering of paddlers taking part in a shared experience. The course is a counter-clockwise circuit of Nahant Bay that passes along a little-known but beautiful stretch of coast just north of Boston. Much of the race is within the relatively protected bay, although a three mile leg across open water is often affected by wind and waves. This event is for competent ocean paddlers.
The race starts at the west end of Fisherman's Beach and the course heads SSW for two miles to a buoy just off the tip of Little Nahant. Racers must round the Little Nahant buoy CCW and travel 1 ¾ mile SE to another buoy off the tip of East Point in Nahant (keep a couple hundred feet offshore to avoid Saunders Ledge, located 1/8 mile before the East Point buoy). Racers will round the East Point buoy CCW and head toward Egg Rock, about 1 mile away (approx. 20° magnetic). The course passes to the right (seaward) side of Egg rock and heads (approx. 15° magnetic) toward a large house with tall black windows and concrete columns on Phillips Point in Swampscott. Just short of the big house, racers will round the third and last buoy CCW, travel through the gap between Phillips point and Dread Ledge and head toward Lincoln House Point (navigate toward the tall radio tower). Racers must round Lincoln House Point, head toward the finish line flags on the east end of Fisherman's Beach, dismount and run between the flags to finish.
Schedule: Registration from 8:30 to 9:30. Skipper's meeting at 9:30. Race starts at 10:00. Cost: $5.00
Distance: 8 miles
Safety: PFD required. A chase boat will monitor the course.
Chart: NOAA #13275
Classes: Surf Ski and OC1
Awards: First overall for men and women.
"Rain" date: If Saturday has high fog or lightning hazard, the race will take place TBD.
Directions from the north: Route 1 South to 129 East to Fisherman's Beach (ref. Google Maps).
Directions from the south: I93 north to exit 20 (Logan Airport exit). Follow route 1A north, bear right at the Lynnway in Lynn and take the second exit at the traffic circle. Follow the coast about 1.5 miles to Fisherman's Beach (ref. Google Maps).
Free parking is available along the Fisherman's Beach seawall and in the Fish House parking lot. The Swampscott Fish House has public bathrooms.
If you plan to attend, please email me at northcoast1@verizon.net.
I hope to see you there.
Mike McDonough
[get_posts category="4″ fields="post_title,post_date, post_excerpt"]