Get Paddling, Get a Surf Ski, Get a Lesson, Get Fit!
Novice to Advanced Lessons in protected waters to ocean conditions depending on your skill level.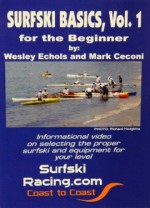 SurfskiBasics DVD by Wesley Echols, No Longer Available, Sold Out!
Lesson : Strokes Used in Surf ski paddling, Includes the following:
Individual: $150.00
On Water( 3 hours beach/water)
Paddle Selection.
Getting in and out of your ski.
Rafting up
Assisted Rescues
Forward Stroke
Forward Sweep Stroke
Reverse Sweep
Park Stroke
Brace
Tap Brace
Lesson: Introduction to Surf skis includes the following:
Individual: $100.00
On Beach/classroom: 1:30 hour
How to choose a surf ski? A BIG topic I can help you with!
Parts of a Surf ski: Why they are important and how they affect your paddling.
Outfitting your ski(Very important for fit and performance)
How to choose a Paddle? Are wings all the same?
Lesson: Safety in Surf Skis, Includes the following:
Individual: $75.00
(1 hour on Beach/Classroom)
Skill Level
Access Conditions
Risk Tolerance
Group Paddling
Winter paddling
Safety Gear
Paddling Clothing
 Lesson:Race Training, Includes the following:
Individual: $75.00
(1 Hour Classroom/Beach)
Goals (specific, timely, realistic)
Intervals
Long Paddles
Tempo Paddles
Group Training
Rough Water Training
Flat water Training
Heart Rate Training
Pre Race Preparation
Boat Selection
Rudder Selection
Paddle Selection
Race Strategy
Drafting
Fueling
Lesson: Off Season Training
(1 Hour Classroom),Includes the following:
Individual: $75.00
1. Rowing Erg
3. Cross Training
4. Winter Paddling
SurfskiRacing.com Race Series, 2011, My Best Season Ever.
Testimonial by Tim  Hudyncia
Thank you very much for the brilliant sharing of your time, passion, expert guidance and "hand-me-downs" today – I've already enjoyed beaucoup use of the Stellar kayak stands.
I don't think it to be an exaggeration to write that today was a brilliant turning point in my paddling life – A morning of "WOW" moments. Thank you, can't wait to paddle, looking forward!
My note to the paddling community present and future:
I do not like soap operas. In fact, more than anything I appreciate and welcome genuine, sincere, honest folks, and I aim to be the same. I mention that because of how powerful my experience was yesterday with Wesley, and I want to accurately convey that to you, but first, a bit of background.
I was a fierce competitor for many years, running (through high school), road bicycling (Cat. 3 racer), and then mountain biking and inline skating (into my 30's). Around age 35 I transitioned away from competition with others while becoming more infatuated with varied daily challenge for continuous growth (juggling, unicycling, didgeridoo playing…). At the same time, I continued to push and challenge myself physically, for that's what makes me feel most alive; that what brings thrill and joy to living for me. As I approached age 40, my wife got me my first kayak (sea kayak), and I've been having great fun developing myself into a worthy paddler, something I intend to do for the rest of my life. As a chiropractor I tell people every day that if I could prescribe just one exercise for them, it would be kayaking. It is a fantastic posture, core, balance and whole body exercise, perhaps the best. Because I embrace challenge and speed, last fall I bought a surfski kayak, and I have logged 40+ hours in my surfski (self-taught, long way to go, looking forward to racing because I'm different now – I know that racing is always me against me).
That brings us to yesterday (I turn 45 this year), which was my first paddle to paddle encounter with another surfski kayaker. I was a bit reluctant to reach out because I used to be a rather fierce and ruthless and selfish competitor, and I've little interest in being back around such folks. Yesterday I discovered that I reached out to exactly the right person, Wesley, and I am very, very grateful for the experience.
To finish background: In some ways I have pinpoint focus and talent. Every single time someone lies down on my chiropractic adjusting table, I do the same exact thing: I give them the very best adjustment that I can, aiming for it to be the best they've ever had. Yesterday I felt like Wesley carried the same focus and approach into coaching me, along with a very high level of expertise – It was as if every expert web-video and article that I'd watched and read was a part of my session with Wesley, along with the one thing that I really thought could make a world of difference for me: Wesley's observation, feedback, and continued critique. And it did! I cannot wait to get back on the water so that I can practice the many things that he addressed.
I'll also call Wesley's approach comprehensive and powerful. The power is in his high level of passion and his non-judgmental way, along with his knack for making you feel really darn good through positive reinforcement and an unwavering view of me, the student, as having tremendous potential.
The changes I need to make in my paddle stroke will not be easy, but interestingly Wesley's passion and strong belief in my abilities make it seem much more achievable. I'm really excited to meet others in the surfski paddling community, for my first meeting with Wesley and his strong welcome have impacted me very positively, indeed.
In Health and Glide,
Dr. Timothy Hudyncia
Coventry, RI
401-921-5060